[Maj.] POTUS
posted
Jun 10, 16
June Newsletter
Rise and shine Fusiliers! New month, less people, new newsletter. I will explain again a bit about the future plans in highlight of the release of the first Alpha version of War of Rights. We will talk a bit about the annual Purge that happened. With that out of the way there is maybe another more negative topic to address. I also have a more positive note to counter the negative i guess. All in all as the school year is coming to an end, I do expect a bit more activity here and there (hopefully)

Promotions
No Promotions whatsoever last month. Reason, because my annual purge was being taken care of. So there is no "Class of May" instead we retired a couple people, and the majority got taken to the shed behind the 87th HQ….
"The Purge" results
If you remember last newsletter I actually gave numbers that we deal with. Let's Recap When I ordered to commence the cleaning, there were;
In the steam group: 94 people
On the roster: 44 people
Which meant that less than 50% of the steam group were on the actual roster.
Of that active Roster we had roughly again 50% active.
So the results. In the steam group there are atm 51 people, which means that almost 50% got removed. There are a few people that get the privilege to remain in the steam group.
The roster remains pretty much the same (number wise), most people replied that they will become more active. We will see how that goes...Good thing is that people now are giving me or someone else notice if they can't make it. So the cleaning took place mostly in the steam group..
For me it is not completely done yet. I still have some people on a watch list, so i would not be surprised if more people were to follow…
So let's all step up a bit and try to get the Class of June only filled with Promotions
Demotions!
In one of the newsletters i explained the role and expectations of the Fusilier and Kingsmen ranks. So some people might find it harsh. But i'm going to apply a new rule, if someone has 0% attendance and has no LOA's then i am demoting them. This will not only count for the Fus. and Kgm. ranks, i will draw this line further into the other ranks as well
So None this month Yet


Recruits that are getting the boot at the end of the month if they don't show up.

Christopher
Dankmeister
Raticus
Setheart
Synapse
Non - recruits on the watchlist: 6
Discipline.
Must improve a bit people, we are not one of those hardcore realism units where you have to address me as "sir" (although i do like the sound of it…) But lately there is a bit too much fucking around lately, and shall i say some of the NCO's are guilty as well? Beside that let's get rid of that negative attitude sometimes before and during events. It doesn't really sounds all that appealing to people if they have to listen to 'deputy downers'. I understand sometimes events can be frustrating but try to come with a positive attitude to an event.
The more positive note
With all the purging and pointing fingers at soon to be demoted people etc. Potus wants to be entertained. Let's have some fun, let's organize a small fool around tournament, we will have some cage matches no weapons fists only, winner gets one of the lame games we still have in our library or some other reward i may come up with. Will set up a thread on the forum soon where you can sign up.
War of rights progress
Things move faster on this and from now on i will include this section in every newsletter.
Lets look at the progress since last time and some of the future plans we have for this game.
The alpha phase took a small turn they decided to do a technical alpha first for Lt col pledges and above. They released the Drill camp and so far it is a basic alpha there are only a couple things available but even then this game looks absolutely amazing. You have to see it all yourself really.
Now as for the future plans on this, I already stated in last newsletter that i slowly want to prepare the forum thread etc etc.. None of that happened so far… I do have some stuff already prepared to include in that forum though, plus i was slowly thinking on how i would use ranks for this whole new regiment. And i made the final decision to go with the ranks the game will provide and with that the ranks they actually used back then for Infantry.
Officers

Colonel

Lieutenant Colonel

Major

Captain

First Lieutenant

Second Lieutenant

NCOs

Sergeant Major

Quartermaster Sergeant

First Sergeant

Sergeant

Corporal
Enlisted
Private
Recruit
I want to make it clear that this structure is not to be compared with the 87th Structure whatsoever. There will be no real "equivalent" to the current ranks. NCO's and CO's may play a different role than they do now. And who will be in that CO section? I haven't made my mind up yet. I will be the Union Officer that just mustered a bunch of civilians into a giant company and I will go from there. More to follow in next newsletter for sure!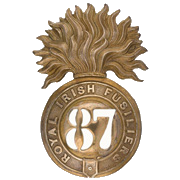 Signed
Major Potus
2nd battalion, 87th Regiment of foot
The Royal Irish Fusiliers